Aug 10, 2020 02:55 PM Central
Jessica Doman
My Family has the travel bug. There, I said it. And we sure are missing traveling around these days given the Pandemic. But, we have our travel list ready when it is safe to travel again!
My husband Nick and I set a goal after we had our oldest Tyler to take 10 trips with him before he turned 2 because (SPOILER ALERT) kids under 2 fly free on a parents lap. Well, we didn't quite hit 10 trips, I think it was 8 but my goodness were those trips magical!
Traveling with a little one allowed Ty to experience lots of culture, and learn the ins and outs of traveling. Something we feel very strongly about should be learned as a little kid because it makes it easier when they are older. Now, both of our kids have made many cross country and international trips and we very much look forward to many more passport stamps in the near future.
By far our favorite family vacation was our trip to Turks and Caicos. You'll notice in my social media, we like to travel to tropical places. We live in Michigan where the weather is subpar, 8ish months of the year :) When we visited Turks and Caicos, Tyler was 18 months old and it was really just making its mark for its incredible beauty. We like to go to places taht haven't been "Americanized" yet and my goodness Turks sure made its impression on us.
We made this trip in early December and practically had the place to ourselves. Traveling at this time is also considered "off peak" which means we got much better pricing for the place and airfare. Plus Christmas decorations were out in full force which is fun to see how other Countries decorate and celebrate! The pool was huge and again we mostly had it to ourselves, the staff was amazing. They clean your room everyday even though this is considered a condo unit and guess what, they even did our dishes?!? Yeah, I'm a Mom and I always have dishes to do, so sign me up for anyone who will do my dishes! The beach is soooo sandy with this luscious white sand and the walkway into the ocean is breathtaking. While Tyler was just walking at this time, I have so many pictures of him crawling his way into the ocean.
We did the snorkeling excursion on this huge boat with a slide which was so fun (Ty sat this part out and stayed back with my parents) but we loved it! We did not rent a car in Turks rather, we walked as we were close to shops and food where we stayed plus there were bikes at our condo unit we could ride. We didn't have much agenda on this trip as Tyler was so little, we spent our mornings at the beach and then one of us would stay with him while he napped in the Condo until and after nap we all moved to the pool. It was a dreamy dreamy vacation and we can't wait to get back!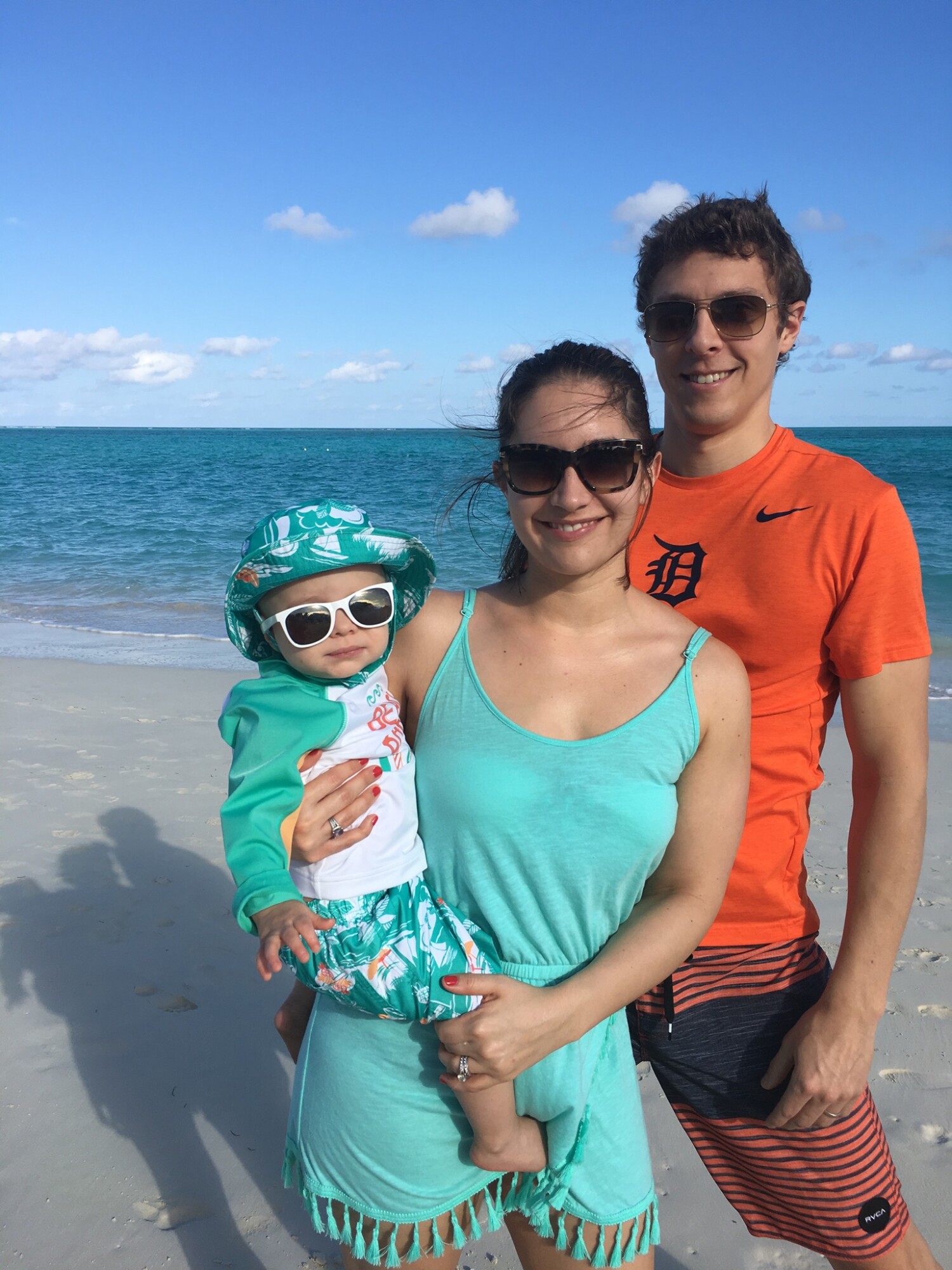 My Tips for Traveling:
+Travel "Off Peak" times if possible
+Always check to make sure you're not traveling during hurricane season if in hurricane belt. Usually right before or right after hurricane season is best
+Travel mid week so Wednesday-Tuesday etc. less people in airports, cheaper accommodations, etc.
+Travel to places that are aren't super popular yet...its so fun to be able to experience new places that not everyone has been to.
+Avoid renting a car if possible, it saves money and allows for you to walk/ride bikes to explore more