Jan 5, 2021 09:09 AM Central
Jessica Doman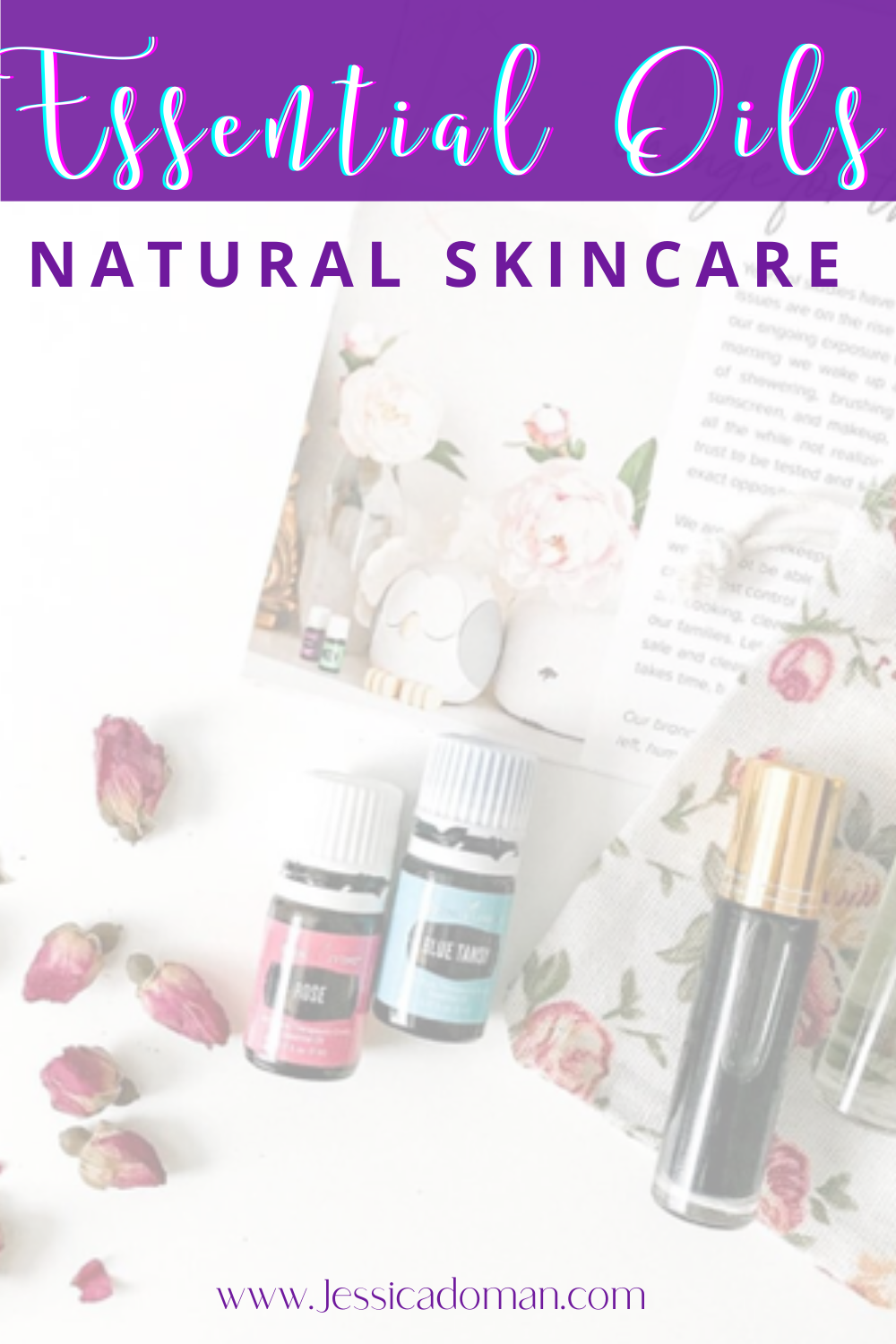 Skincare. Moisturizer. Face wash. Toner. Wrinkle cream. Face masks. All the things.
The skincare industry is overrun with toxic chemicals. The average woman absorbs 500 toxic chemicals per day because of skincare and personal care products. Most skincare products, are full of things like: parabens, aluminum, neurotoxins, synthetic fragrance, SLS, talc, hormone disruptors, and more. These things aren't doing our skin any favors and they certainly aren't looking out for our overall wellness.
I've been using the skincare line from Young Living for 3 years now and here's what I've noticed:
+ I break out significantly less (like a couple times a year rather than several times a month)
+ my skin is no longer super dry and rough
+ my skin is more even, healthier, and softer.
The power of essential oils is real, friends!
Young Living has a variety of skincare products to fit every skin type and lifestyle.
Let's take a look at a few of the options!
Now let's jump into the fun part! The Recipes I am so excited to share with you!
DIY Glow Skin Serum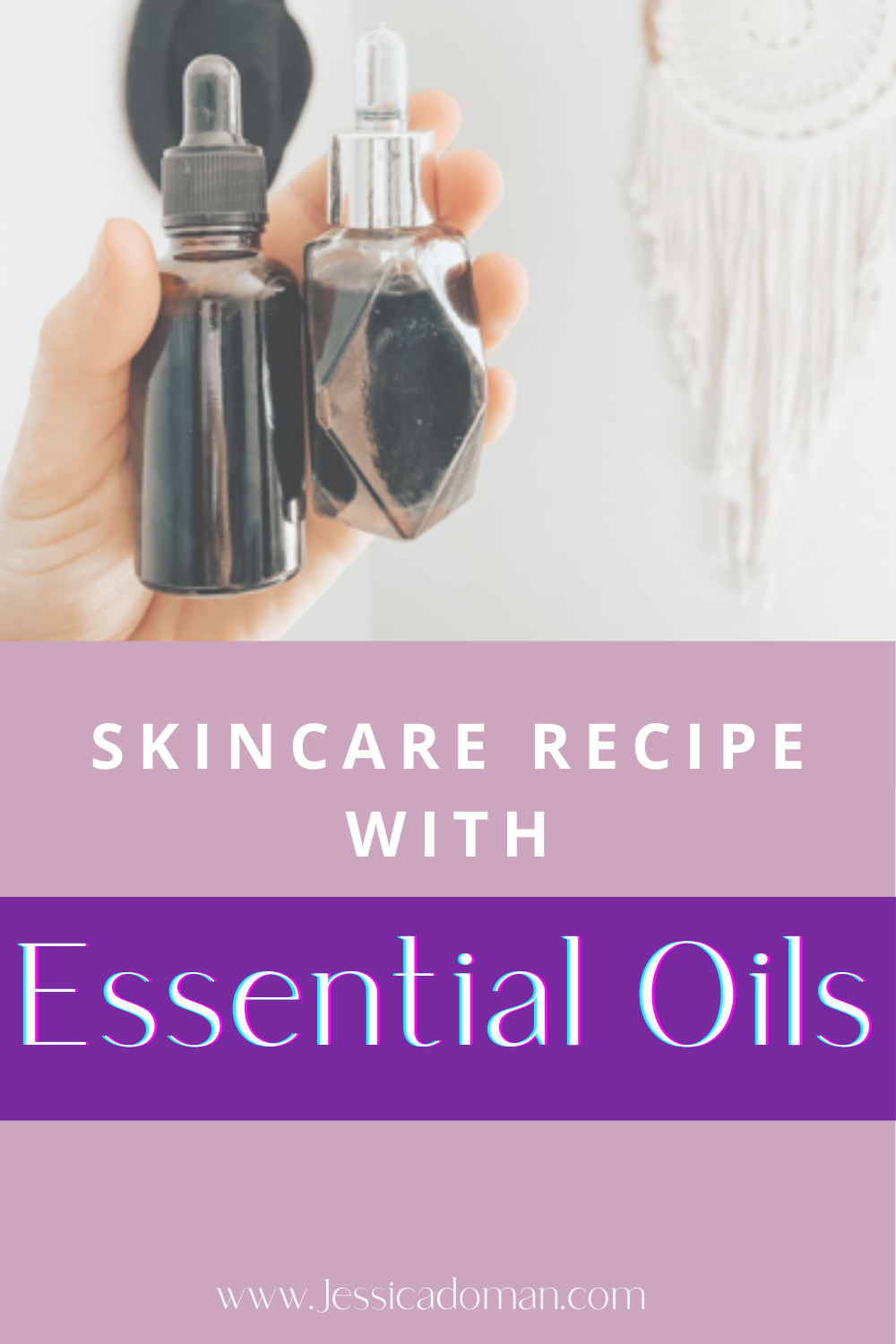 This glow serum is my FAVE and works so well! I've given it to so many friends and they're all obsessed with it. It makes your skin so soft and smooth. Best for: dry, combination, sensitive, and normal skin types.
If you have dry skin, you especially need this. Nothing has ever worked so well on my dry skin!!
I made this new skin serum and the color of it is so


Normally I make a skin serum with pretty basic PSK oils but this time I added in some powerhouse skin supporting oils! I'm excited to see how this helps my skin. I'll update you guys in a few weeks on how I like it!
I have 2 recipes. A basic recipe and one with more luxury oils. The basic recipe is great and will work but get your hands on these luxury oils because they do wonders for your skin!! These ratios are for a 15 ml dropper bottle.
BASIC SERUM:
Top off with jojoba oil
LUXURY SERUM:
5 drops each of: blue tansy, neroli, royal Hawaiian sandalwood, frankincense
3 drops each of: geranium, rose, ylang ylang, patchouli, lavender, carrot seed
Top off with organic jojoba oil!
Geometric dropper bottle: https://etsy.me/2TiherV
Regular amber dropper bottle: https://amzn.to/2L6T05U
My favorite organic jojoba oil: https://amzn.to/3bc8IHI
Lash Boost Serum
Who else wants alllll the foxy with none of toxy?! Well good news, you totally can! This Lash Boost Serum is magic and so flippin cheap compared to all the other ones on the market! I'm seriously obsessed. I use it every night before bed and 110% swear by it. I got fake lashes earlier this year from a friend who was practicing and when they came off so did all my real lashes… but now my lashes are back and thriving! I've even started using it on my eye brows (anyone else a victim of overplucking in middle school?

)
The base of this is castor oil which is nourishing food for hair follicles. It also helps to regenerate follicles that have become dormant. Then we add in lavender essential oil because lavender promotes hair growth! You can also add cedarwood and rosemary essential oils for extra strength but just lavender will get the job done!
Here's the recipe:
Empty mascara tube from amazon: https://amzn.to/2L6Td9c
Castor oil: https://amzn.to/3ojCWfz
5 drops each of Lavender, Cedarwood, and Rosemary
Then I apply this my lashes and my eyebrows every night!
DIY Face/body scrub
This is the secret to young looking skin! Whether you're trying to prevent wrinkles on your face or stretch marks on your body, exfoliation is your best friend! I prefer to use sea salt because of the minerals it contains and then we add in our fav oils for skin rejuvenation. I recommend exfoliating a few times a week. This scrub is super easy to whip up and great to keep in the shower!
Here's the recipe:
Glass jar
½ cup of sea salt
½ cup of coconut oil
Melt the coconut oil and mix all the ingredients in a bowl then move to a glass jar for storage!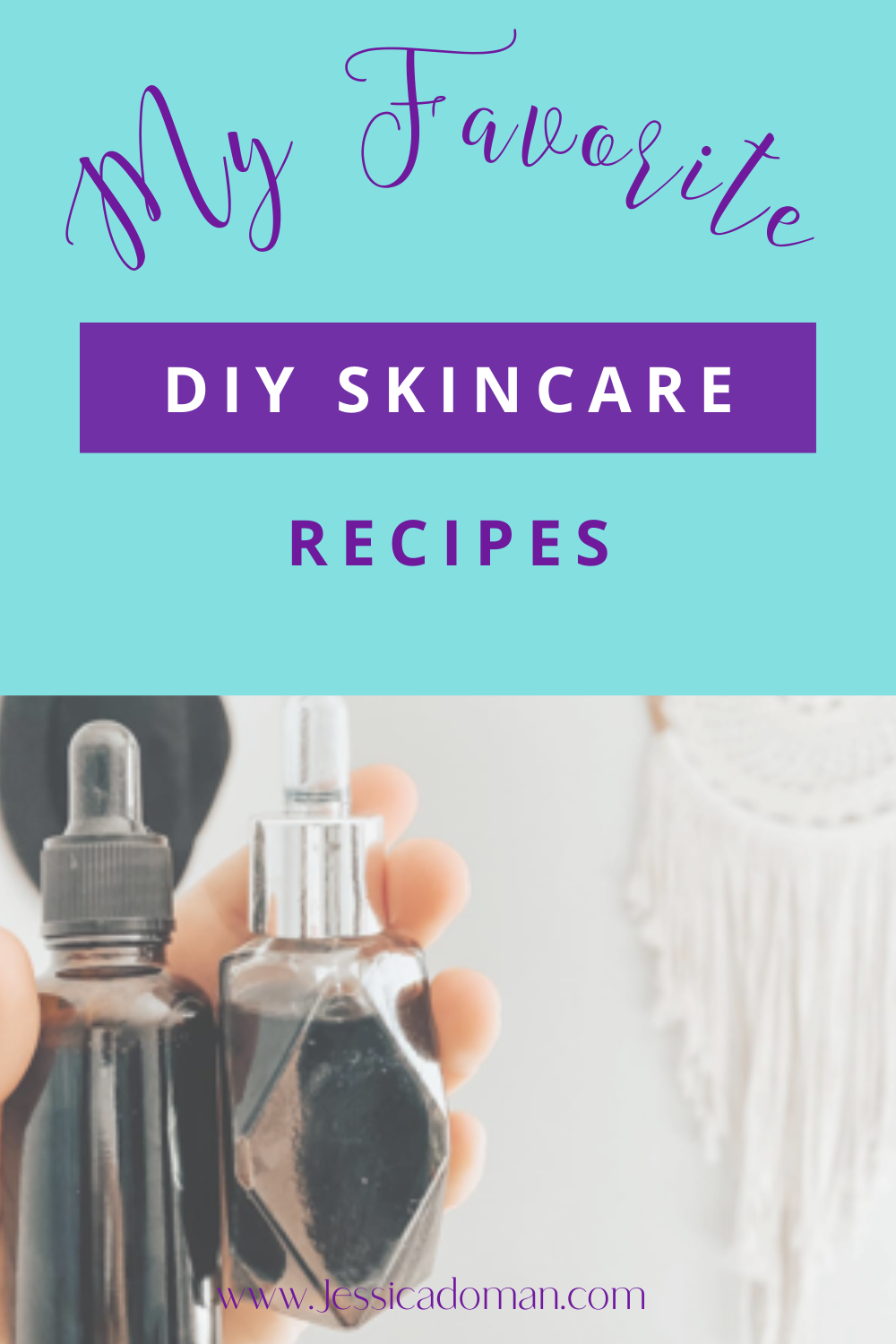 DIY Facial Toner
In a 4 oz bottle:
10 drops geranium10 drops frankincense 5 drops purification5 drops tea tree
Fill up with unscented Witch Hazel
Toner is super important for healthy skin. It helps balance the pH of your skin, it detoxifies your skin, helps shrink pores and tightens skin, and hydrated and nourishes your skin.
Essential Oils for Skin
Here is a list of some of the amazing for your skin oils! (this is not an exclusive list...I'm sure I missed many others but it's a start!
Manstrate Melaleuca (Tea Tree)
How to incorporate oils into your skincare routine:
1. Making DIY products like the ones we are sharing in this class!
2. Using the YL skincare products infused with essential oils
3. Roll on oils onto your skin as part of your skincare routine
I do all three of these! I have a lot of oils in my products and diys and then I also roll on frankincense and manuka neat.
Keep in mind that oils are adaptogenic and work a little differently for everyone! So you just need to experiment a little to see what is best for you.
For all of you who are following this but don't have Young Living oils yet, let's talk about the best way to get started!!
Young Living released this special edition welcome home kit and it's the perfect way to get started and make all the diy skin recipes! It does go away after April, so you still have a few more days to order it.
The Welcome Home Starter Kit includes:
8 Essential oils:
Frankincense, 5 ml
Lavender, 5 ml
Peppermint, 5 ml
Valor, 5 ml
Grapefruit, 15 ml
Lemon, 15 ml
Lime, 15 ml
Tangerine, 15 ml
Wooden oil rack
This includes so many oils that are amazing for skin and all our natural skincare recipes! With this kit you can make:
• the amazing glow skin serum
• make-up remover pads
• diy toner
• spot treatment roller
• diy perfume
• face and body scrub
• bath salts
And so much more! Plus these oils aren't just for skin and have many other uses like:
• emotional support
• digestive support
• can be used to make other things like air fresheners and cleaning supplies, and more!
Also: this kit gives you a lifetime membership so you can also then grab any skincare products you want and you'll get 24% off!
DIY make-up remover pads
Here's a great recipe for those diy lovers!
You need:
• a glass jar
• cotton pads
• 2 TBSP witch hazel
• 2 TBSP purified water
• 2 TBSP jojoba oil
• lavender oil
• frankincense oil
Mix all ingredients in a measuring cup that is glass or stainless steel.
Place the cotton pads in your jar.
Pour the liquid mixture over the pads and put the lid on tight!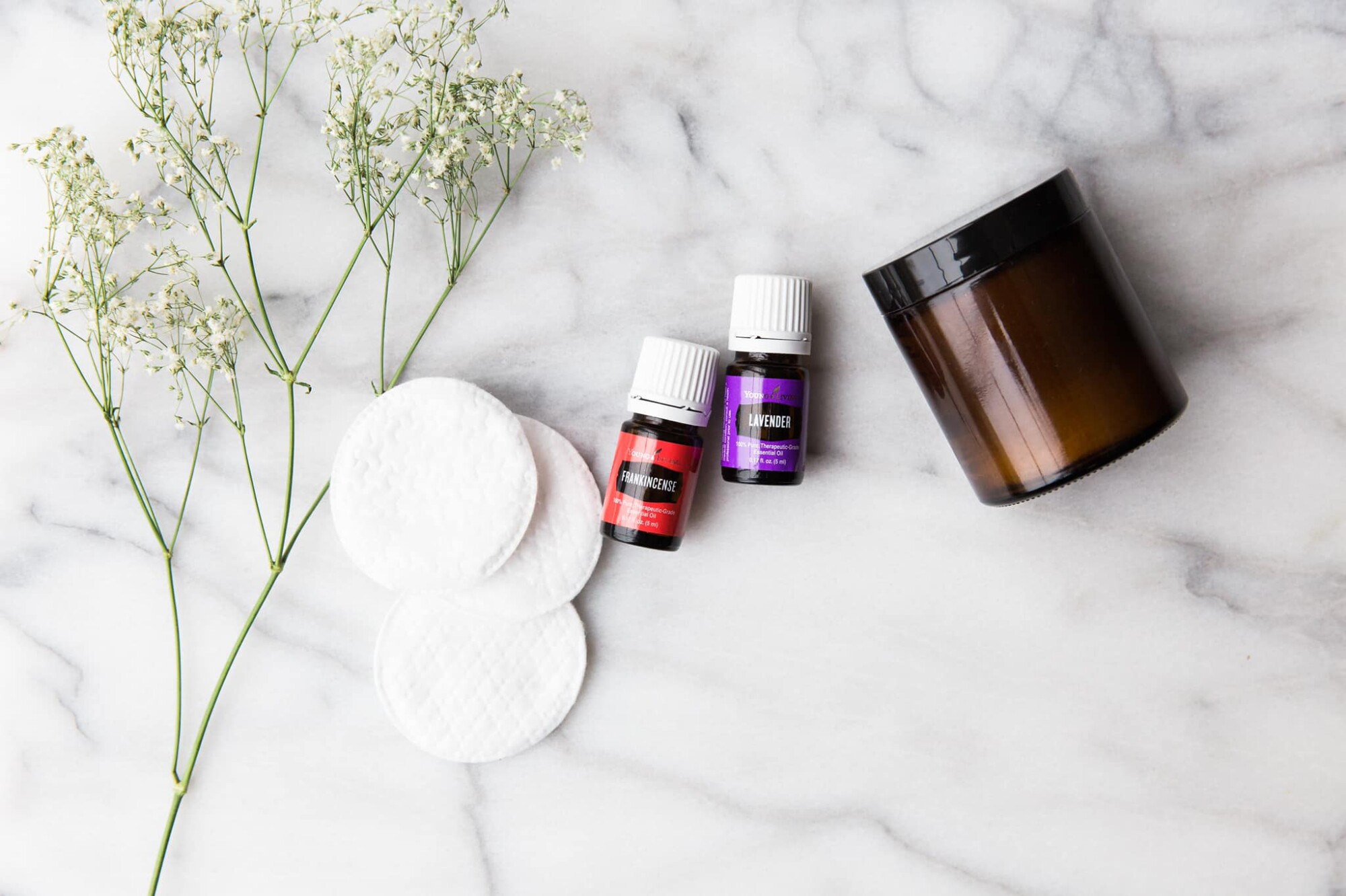 DIY Spot Treatment Roller
Are you prone to breakouts? Then this is a great roller to have!
In a 10 ml roller:
10 frankincense
10 lavender
10 tea tree
5 lemon oil
Top off with jojoba oil
How to use: every night, just roll on to any pimples or spots that need treatment! Make sure to only use at night since lemon is photosensitive.
I also have a bottle of frankincense and tea tree in my bathroom with the roller tops on and sometimes I just roll those right on!
Actually good for you Mineral Sunscreen
Of course we cannot talk about natural skincare without talking about sunscreen! This is a super important one because it's so important to protect our skin, but it's hard to find sunscreen that doesn't contain toxic ingredients that we absolutely do not want on our skin and in our bodies.
+ 99% of sunscreen on the market is very toxic and the ingredients can cause issues in our bodies. Why they're allowed to be sold in stores, I have no idea

According to the CDC, "97% of Americans are contaminated with a widely-used sunscreen ingredient called oxybenzone that has been linked to allergies, hormone disruption, and cell damage. Oxybenzone is also a penetration enhancer, a chemical that helps other chemicals penetrate the skin." Over 600 sunscreens sold in the US contain Oxybenzone.
+ Too high of SPF can also be dangerous because it blocks our body from absorbing vitamin d, which our bodies need.
+ Applying a full body of Chemical filled sunscreens is actually giving us the same amount of estrogen as hormone replacement therapy.

That's a lot of estrogen. Hormone disruption can cause infertility and a whole host of health issues so we are staying far away!
+ The sun breaks down all of these chemicals into free radicals which are cancer causing. This is also why we have to reapply because the sun breaks them down and they stop working.
If you're feeling like this right now


there is a better way, friends!
When Young Living releases their mineral sunscreen a few years ago I was OVER THE MOON.
Let's talk about this Mineral Sunscreen!
- comes in SPF 10 or 50
- coral reef-safe
- soaks in really well
- doesn't stay white on your skin
- safe for all ages
- natural, toxin-free formula
- does not contain nano-particles
- a little goes a long way
- water resistant
- sweat resistant
- dermatologist approved
BONUS: this sunscreen is actually recognized as an OTC product by the FDA and has been shown to PREVENT sunburn. And after using it for two years, we can attest to that!
These are a few of my tips that I'm grateful to share with you when it comes to Essential Oils and Skincare. If you're looking for more information check out these other blogs I wrote featuring essential oil skincare:
When you're ready to join me on your essential oil skincare journey, click here to read through the way I recommend to get started.