Jan 5, 2021 09:33 AM Central
Jessica Doman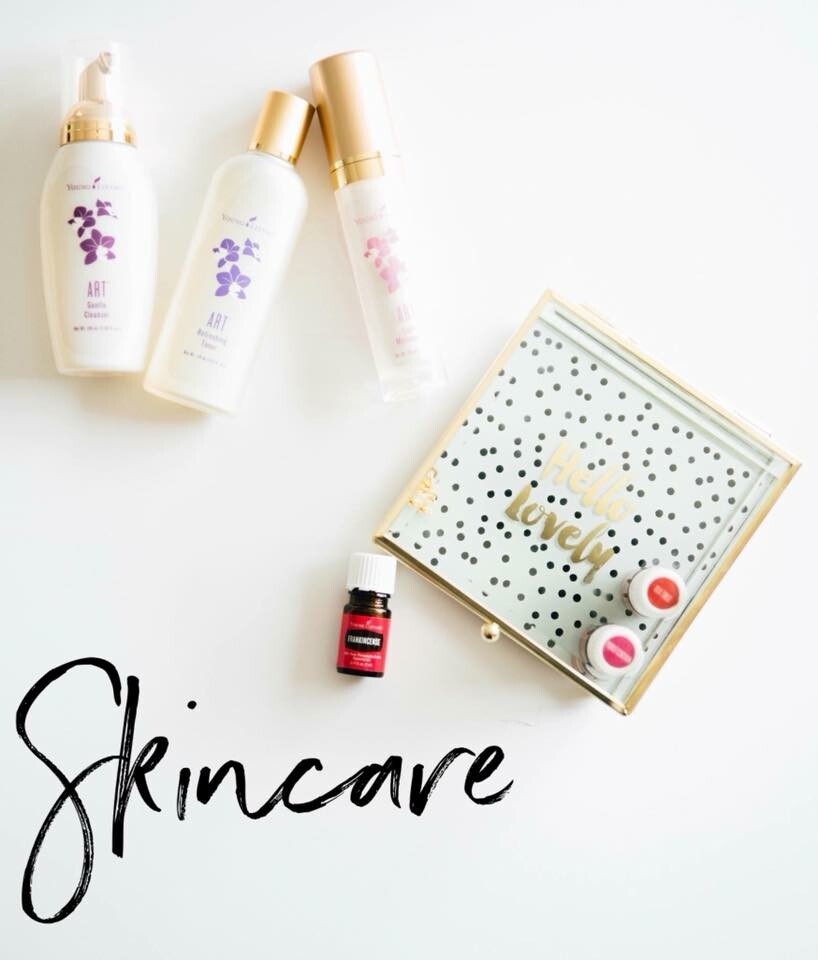 With how many beauty & skincare products are full of toxins and use harsh chemicals, how do we know what to use? How do we know which ingredients are okay to use and which we should avoid?
First, I always recommend checking the labels. The label of every personal care product has an ingredients list on it. Although there are over 80,000 ingredients on the market, here are the top ingredients that we recommend avoiding:
Benzalkonium chloride: a disinfectant used as a preservative and surfactant associated with severe skin, eye, and respiratory irritation and allergies. Found in: sunscreens, moisturizers.
Phenyoxyethanol: a preservative that is a known neurotoxin and can cause skin irritation.
BHA and BHT: synthetic antioxidants used to extend shelf life. They are likely carcinogens and hormone disruptors and may cause liver damage.
Coal tar hair dyes and other coal tar ingredients: a byproduct of coal processing that is a known carcinogen. It is used as a colorant and an anti-dandruff agent.
Ethylenediaminetetraacetic acid (EDTA): a chelating (binding) agent added to cosmetics to improve stability. May be toxic to organs.
Ethanolamines (MEA/DEA/TEA): surfactants and pH adjuster linked to allergies, skin toxicity, hormone disruption, and inhibited fetal brain development.
Formaldehyde: used as a preservative in cosmetics. A known carcinogen that is also linked to asthma, neurotoxicity, and developmental toxicity. Present where quaternium-15, DMDM hydantoin, imidazolidinyl urea, diazolidinyl urea, sodium hydroxymethylglycinate, 2-bromo-2-nitropropane-1,3 diol (Bronopol), and several other preservatives are listed.
Hydroquinone: a skin-lightening chemical that inhibits the production of melanin and is linked to cancer, organ toxicity, and skin irritation.
Methylisothiazolinone and methylchloroisothiazolinone: chemical preservatives that are among the most common irritants, sensitizers, and causes of contact skin allergies.
Oxybenzone: sunscreen agent and ultraviolet light absorber linked to irritation, sensitization and allergies, and possible hormone disruption. Found in: sunscreen, moisturizer.
Parabens (methyl-, isobutyl-, propyl- and others): a class of preservatives commonly used to prevent the growth of bacteria and mold. Parabens are endocrine (or hormone) disruptors, which may alter important hormone mechanisms in our bodies and have been linked to breast cancer.
Phthalates (DBP, DEHP, DEP and others): a class of plasticizing chemicals used to make products more pliable or to make fragrances stick to skin. Phthalates disrupt the endocrine system and may cause birth defects.
Polyethylene glycol (PEG compounds): PEGs are widely used in cosmetics as thickeners, solvents, softeners, and moisture-carriers. Depending on manufacturing processes, PEGs may be contaminated with measurable amounts of ethylene oxide and 1,4-dioxane, which are both carcinogens.
Sodium Lauryl Sulfate and Sodium Laureth Sulfate (SLS and SLES): SLS and SLES are surfactants that can cause skin irritation or trigger allergies. SLES is often contaminated with 1,4-dioxane, a byproduct of a petrochemical process called ethoxylation, which is used to process other chemicals in order to make them less harsh.
Synthetic fragrance or parfume: an engineered scent or flavoring agent that may contain any combination of 3,000-plus stock chemical ingredients, including hormone disruptors and allergens. Fragrance formulas are protected under federal law's classification of trade secrets and therefore can remain undisclosed.
Toluene: a volatile petrochemical solvent that is toxic to the immune system and can cause birth defects.
Triclosan and Triclocarban: antimicrobial pesticides toxic to the aquatic environment; which are linked to disrupting human reproductive systems.
The Glycol Family (propylene, butylene, etc): a byproduct of petroleum. It is known to irritate skin and overtime, daily usage can be harmful.
Talc: a powdered, hydrous magnesium silicate that sometimes contains aluminum silicate and an be contaminated with asbestos fibers. It is also carcinogenic and can cause respiratory irritation.
Petroleum: a mineral oil jelly used as a barrier to lock in moisture. It is made from crude oil, is a known carcinogen, and can cause irritation.
WHEW! Ok we realize that was a LOAD of info, but my point here is that it is so important to familiarize ourselves with these names so when we go to the store and pull something off the shelf, we can recognize good from bad and make an empowered decision for ourselves! Need an easy button hack? Check our my free list of 20 ingredients to avoid to make it easy next time you go shopping!
Before I share with you some of my fav products for Natural Skincare here are my tips for healthy skin for every type!
the best skincare tips for every type!
• wear sunscreen before going out in the sun- the YL mineral sunscreen is my fave!
• eat lots of fruits and veggies in you diet
• drink plenty of water and stay hydrated
• take a probiotic- our gut and skin health our connected- I LOVE LIFE 9.
• try and minimize stress as much as you can! This isn't always within our control but stress = breakouts
NORMAL SKIN:
• use products that support your normal skin and don't bring too much grease, but won't dry your skin out
• for best results, use the entire ART system in your skincare routine! Cleanse with the gentle cleanser, moisturize with the art light moisturizer, and use the art toner. Exfoliate with the mint facial scrub once a week.
DRY SKIN:
• those with dry skin usually feel a tightness in their skin and may experience dry, scaly patches, with redness. Skin may also be sensitive and get irritated easily.
• moisturizing is super important for people with dry skin. They need thicker creams that will provide more moisture. Oil-based is better than water-based for this skin type.
• the more oil found in a moisturizer, the better it can absorb and hydrate the skin tissue.
• avoid harsh chemicals in your skincare products, as dry skin is usually sensitive.
• use a humidifier daily. FYI- YL diffusers are also humidifiers!

• use a primer before applying make-up. I actually find the Savvy Minerals matte primer is more moisturizing than the hydrating formula- FYI. And always moisturize before.
• speaking from experience, here's what you can do for best results: moisturize with our diy glow serum recipe or the sandalwood moisture cream. I tend to use the cream in the winter months at night because it is very thick and the serum in the morning. In the summer I just use the serum. Cleanse with the mirah oil cleanser. This is amazing because it removes all dirt and impurities but also gives you extra moisture. It makes my skin so soft! Exfoliate with the mint facial scrub 2-3 times a month.
• I have extremely dry skin and using this regimen has completely changed my skin for the better!
OIL-PRONE SKIN:
• Those with this skin type tend to have an excess of oil and are prone to breakouts
• Many individuals struggling with oily skin head straight for products that promise to dry out the skin, like acne treatments containing harsh ingredients like benzoyl peroxide, but this can actually be counterproductive. Benzoyl peroxide and other drying ingredients may actually trigger your skin to work harder at producing more oil to compensate, resulting in oilier skin.
•Instead of working against the oil, you want to work WITH it.
• Oily skin needs to be gently exfoliated regularly to help with the buildup of oil which can cause dead skin cells to become trapped in the pores and lead to blemishes and acne. Avoid rough exfoliators which can damage skin in the long run.
• Use a powder or matte foundation to help soak up the excess oil
• Always use a primer
• Wash your face every morning and night
• Always use a moisturizer. Not moisturizing will make your skin more oil prone because it will signal the oil glands underneath the skin to start producing and pumping out more sebum, resulting in oilier skin.
• Use a moisturizer that will work with and support your oil-prone skin.
• Those with oily skin should use the orange blossom cleanser (MADE for oily skin), orange blossom moisturizer (perfect amount of moisture for oily skin and VERY light), exfoliate once a week with mint facial scrub.
• Fun fact: the orange blossom products are amazing for this skin type because they contain natural sulfur, which helps combat breakouts.
COMBINATION SKIN:
• this means that have more than one skin type in different areas of your face. Typically, people with combination skin see dry areas and oily areas.
• It's really important that people with this skin type use natural products because harsh chemicals can dry out dry patches and produce more oil for oily skin. Using natural, gentle products is very helpful.
• If you have this skin type and it's evident that you have significant different skin types on your face, you may need to use a different moisturizer for the different areas.
• Exfoliation is super important for this skin type! Exfoliation with remove dead cells that cause dry skin and unblock clogged pores.
• A good moisturizer to start with for this skin type is the ART light moisturizer. If you need a more hydrating moisturizer for dry areas, try a natural skin serum with jojoba oil and essential oils
• The art gentle cleanser is the best cleanser to use. It is gentle, all natural, and won't be too much for the dry or oily areas.
• For exfoliation, use the mint facial scrub 1-2 times a week, but be very gentle around dry areas.
For all of you who are following this blog but don't have Young Living oils yet, let's talk about the best way to get started!!
The Welcome Home Starter Kit includes:
8 Essential oils:
Frankincense, 5 ml
Lavender, 5 ml
Peppermint, 5 ml
Valor, 5 ml
Grapefruit, 15 ml
Lemon, 15 ml
Lime, 15 ml
Tangerine, 15 ml
Wooden oil rack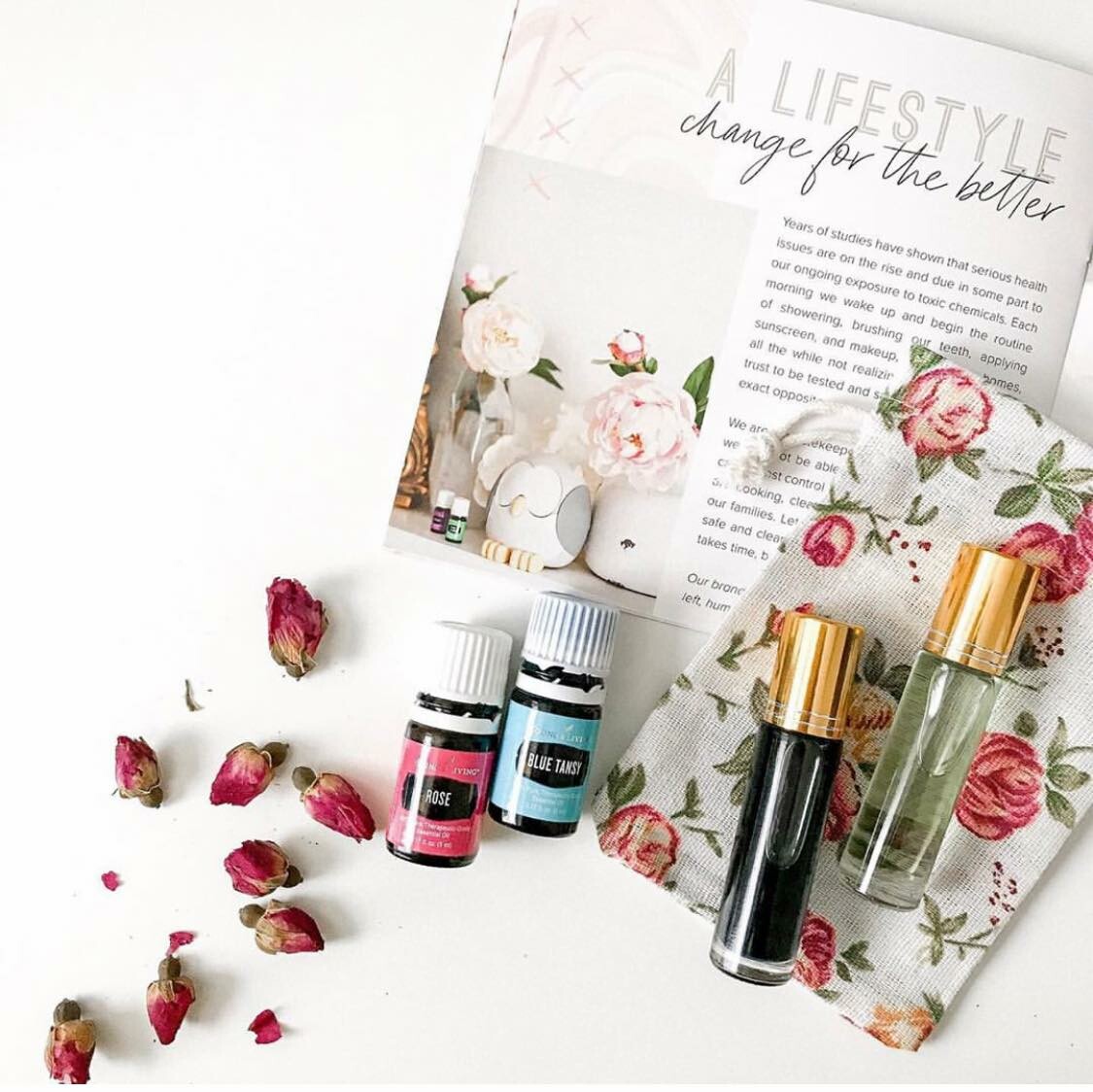 This includes so many oils that are amazing for skin and all our natural skincare recipes! With this kit you can make:
• the amazing glow skin serum
• make-up remover pads
• diy toner
• spot treatment roller
• diy perfume
• face and body scrub
• bath salts
And so much more! Plus these oils aren't just for skin and have many other uses like:
• emotional support
• digestive support
• can be used to make other things like air fresheners and cleaning supplies, and more!
Also: this kit gives you a lifetime membership so you can also then grab any skincare products you want and you'll get 24% off!
Now, what you've been waiting for that has taken me awhile to put together because there is just so much goodness are a handful of my favorite Natural Skincare products + some luxury skincare products for the luxury woman (it's me, I'm her).
Natural Good for your Skin Mineral Sunscreen
Of course we cannot talk about natural skincare without talking about sunscreen! This is a super important one because it's so important to protect our skin, but it's hard to find sunscreen that doesn't contain toxic ingredients that we absolutely do not want on our skin and in our bodies.
+ 99% of sunscreen on the market is very toxic and the ingredients can cause issues in our bodies. Why they're allowed to be sold in stores, I have no idea
According to the CDC, "97% of Americans are contaminated with a widely-used sunscreen ingredient called oxybenzone that has been linked to allergies, hormone disruption, and cell damage. Oxybenzone is also a penetration enhancer, a chemical that helps other chemicals penetrate the skin." Over 600 sunscreens sold in the US contain Oxybenzone.
+ Too high of SPF can also be dangerous because it blocks our body from absorbing vitamin d, which our bodies need.
+ Applying a full body of Chemical filled sunscreens is actually giving us the same amount of estrogen as hormone replacement therapy.

That's a lot of estrogen. Hormone disruption can cause infertility and a whole host of health issues so we are staying far away!
+ The sun breaks down all of these chemicals into free radicals which are cancer causing. This is also why we have to reapply because the sun breaks them down and they stop working.
If you're feeling like this right now


there is a better way, friends!
When Young Living releases their mineral sunscreen a few years ago I was OVER THE MOON.
Let's talk about this Mineral Sunscreen!
- comes in SPF 10 or 50
- coral reef-safe
- soaks in really well
- doesn't stay white on your skin
- safe for all ages
- natural, toxin-free formula
- does not contain nano-particles
- a little goes a long way
- water resistant
- sweat resistant
- dermatologist approved
BONUS: this sunscreen is actually recognized as an OTC product by the FDA and has been shown to PREVENT sunburn. And after using it for two years, we can attest to that!
Here are the ingredients in the Young Living mineral sunscreen:
- Grapeseed, coconut, jojoba, raspberry seed, and other vegetable oils
- Beeswax, candelilla wax, and cocoa butter
- Essential oils (helichrysum, carrot seed, lavender, myrrh, cistus, frankincense)
- Non-nano zinc oxide, which according to the EWG: provides strong sun protection, doesn't break down in the sun, can be used all year round, and isn't harmful to our bodies!
If I'm going to be out in the sun, I always put a little of this on under my skincare products and make-up!
Luxury Skincare Products
Young Living has some amazing skincare products and it can be a little overwhelming to know what to use!
So this is going to go over (briefly) each item, including some of the amazing luxury skincare products!!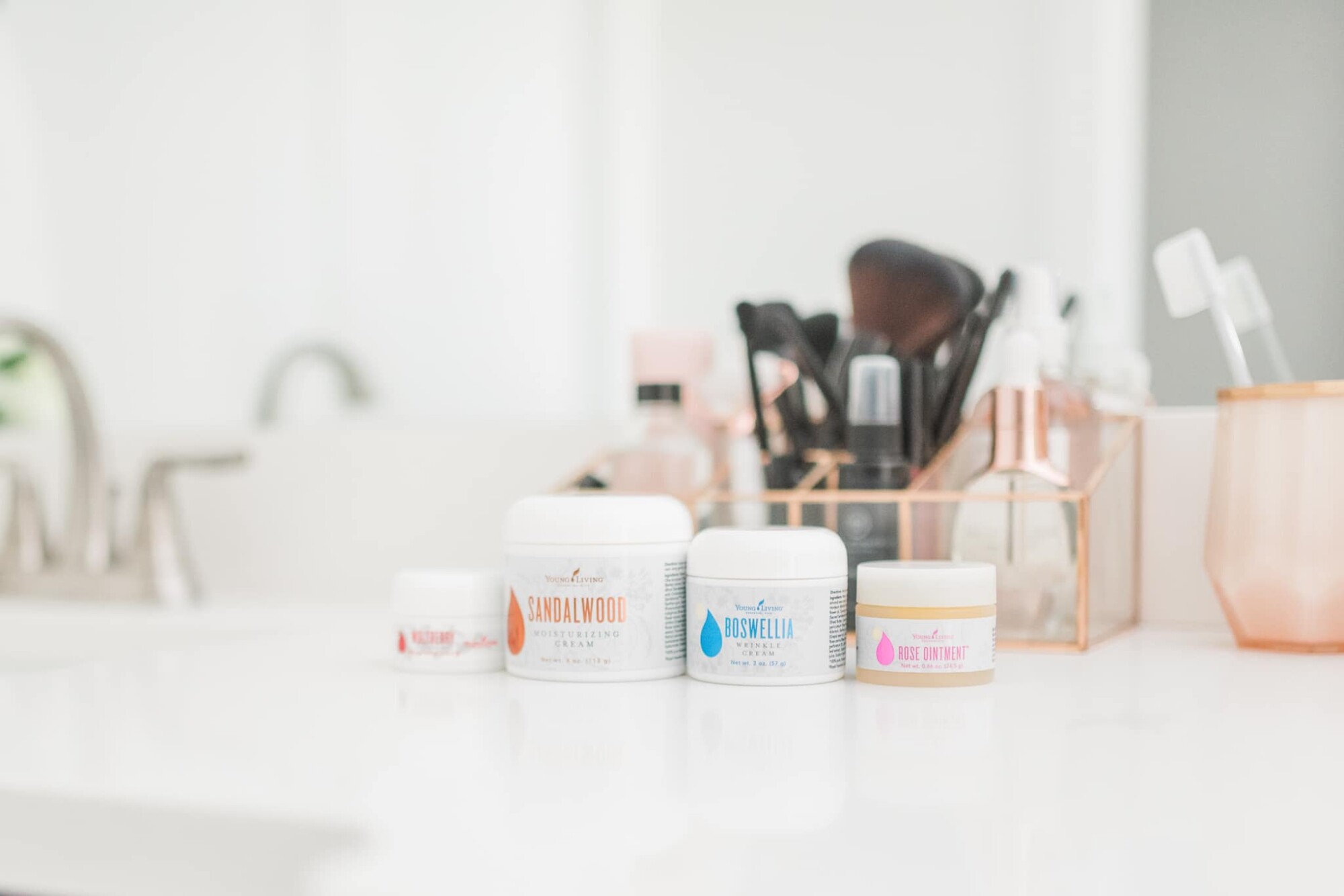 Sheerlume: brightens and balances skin tone and helps with dry skin. Can be used as a moisturizer, a night cream, or both!
Mint Satin Facial Scrub: a water-based exfoliant that minimizes the appearance of pores and invigorates dull skin. This is great to use once a week to keep your skin healthy and in tip-top shape!
Orange Blossom Face Wash: a facial wash that cleanses skin without stripping natural oils. This is 100% plant based and is formulated for people with oily or normal skin.
Orange Blossom Moisturizer: a plant-based moisturizer that is made for people with oil or combination skin.
Orange Blossom Charcoal Bar Soap: made with the powerful absorption properties of activated charcoal, this pulls out dirt and impurities without stripping the skin's natural moisture barrier. Its naturally derived formula includes powerful skin-cleaning agents, moisturizing ingredients, and the bright, fresh scent of our Orange Blossom essential oil blend. Use it for your body to cleanse and deodorize, or add it to your skin care routine. The unique benefits of charcoal soap make it an especially suitable face soap for combination, oily, or acne-prone skin to help maintain a clear, healthy-looking complexion.
Maximum Strength Acne Treatment: For those of us who suffer from the occasion monthly flare up or chronic acne on your face and body, this stuff is awesome! This is an OTC treatment that's been reviewed by the FDA and has naturally derived ingredients like: salicylic acid, Manuka essential oil, Tea Tree essential oil, willow bark extract, and aloe vera! It will help clear up those bummer-filled acne blemishes, pimples and blackheads, PLUS, the tea tree and Manuka will cleanse your skin and reduce the appearance of blemishes! Also, we have ALL tried acne treatments that leave our skin feeling tight and dry, but NOT THIS ONE! The Acne Treatment will love your skin with the addition of aloe and chamomile extracts, as well as fight those tough blemishes and keep your skin baby soft, smooth and moisturized! I love it!
Mirah Luminous Cleansing Oil: contains
Sandalwood, Jasmine, + Rose w/ Jojoba and Argan oil. It removes impurities, makeup, and water-resistant sunscreens. It contains essential oils to improve skin texture and skin appearance. It also moisturizes skin and it's vegan!
ART Refreshing Toner: this gently removes impurities without drying skin out! It also makes a great make-up remover.
ART Gentle Cleanser: promotes healthy skin by washing away impurities and without drying out skin. This cleanser is a great option for people with dry skin.
ART Moisture Cream: This moisture cream is nourishing and soothing to the skin. It is perfect for people with oily/combination skin.
Boswellia Wrinkle Cream: moisturizes the skin while minimizing shine and reducing the appearance of fine lines
Sandalwood Moisture Cream: a hydrating moisturizer infused with essential oils. This is great for those with dry skin.
Wolfberry Eye Cream: a natural, water-based moisturizer that soothes tired eyes and minimizes the appearance of fine lines and bags.
I LOVE skincare products and am obsessed with keeping my body looking and feeling as youthful as I'm able and these are my go to luxury products that help me do just that! Are you ready to finally make a change that's good for your body and skin? If so, join me and the millions of other Women to get your very own Natural Skincare products that I recommend here + the best way to get started.