May 31, 2021 01:13 PM Central
Jessica Doman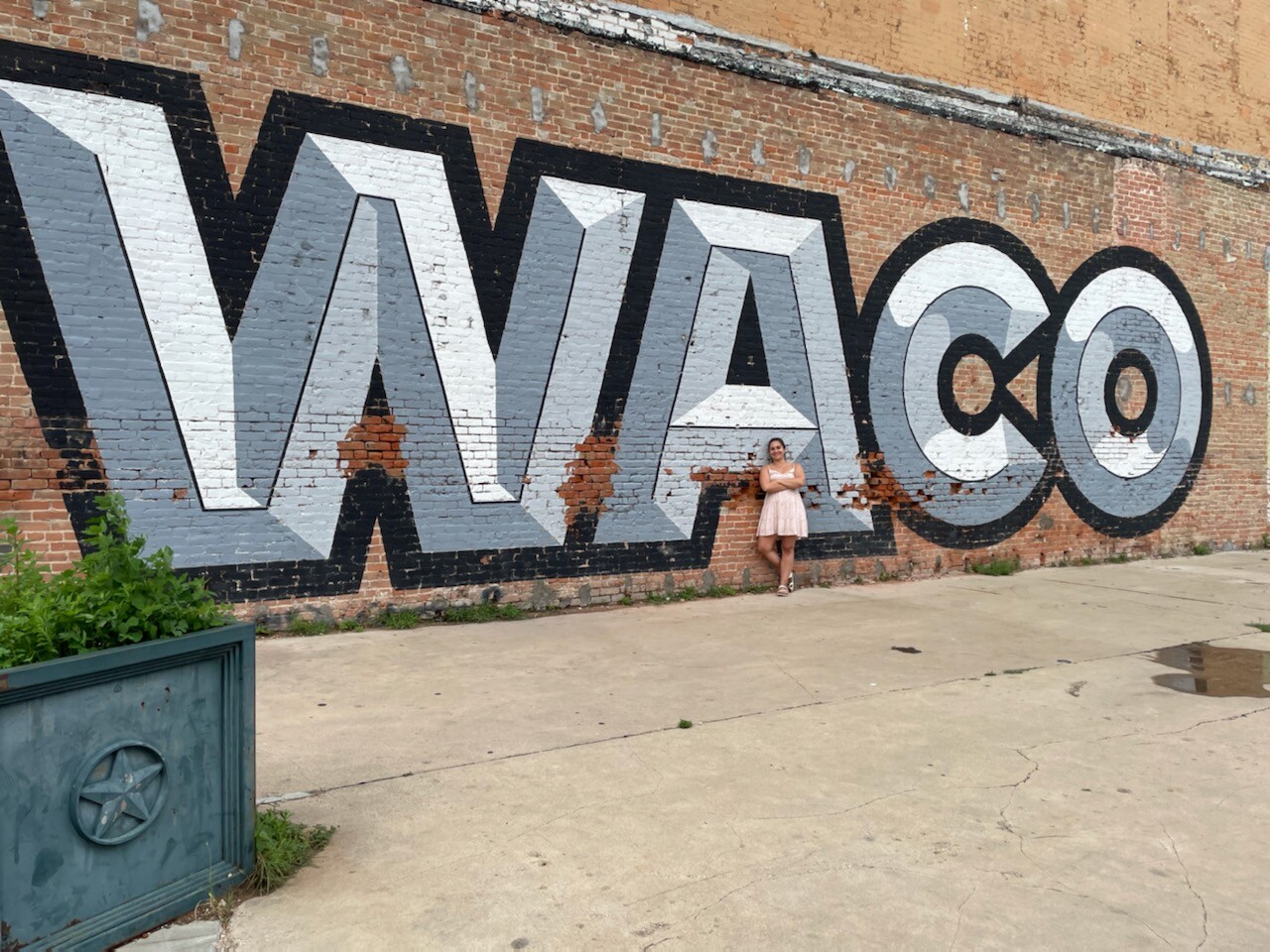 Are you yearning for a girls trip?
I feel you. After the last 18 months, I don't know what could be better than a girls trip.
Have you heard of Chip and Joanna Gaines? Better known as Magnolia. It's an incredible now household name and brand that Chip and Joanna Gaines created. It started and is housed in Waco Texas.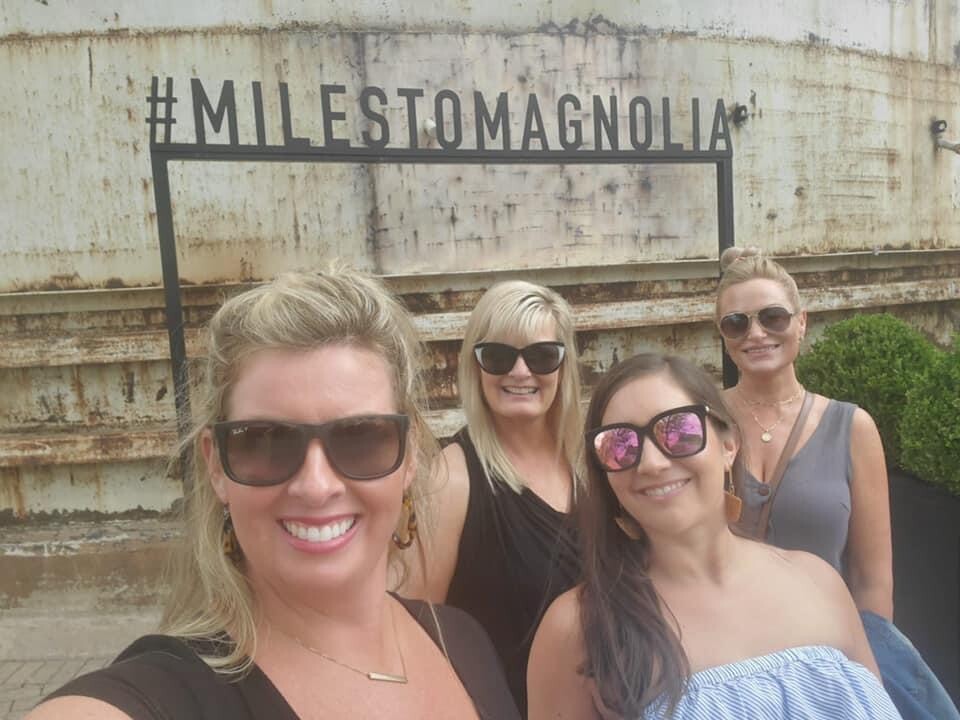 And it also happens to be an incredible destination for a girls trip. Ask me how I know because three of my sweet friends planned a belated surprise birthday trip for me to Magnolia and Waco,Texas last week.
We spent our time shopping for home items; decor, kitchen updates includes utensils and housewares. Along with boutique shopping. Oh and how could I forget I got a gorgeous piece of furniture for my stairway- coastal theme y'all! Fits me to a T.
And when we were researching this trip, it was apparent there wasn't a lot of information on what to do when visiting Waco and since we were on a tight timeline we put together an itinerary of where to shop, where to eat and where we recommend staying-spoiler alert, it's the cutest little house that I cannot wait to go back to one day. Plus one additional recommendation on where to stay, right next to where we stayed, a new house called
The Sterling House
-so dang adorable!
Keep reading to hear more about the where to eat, where to shop, what to do, and all the ins and outs of an epic girls trip focused around fun, shopping, food and incredible girl time.
Of course I'm breaking it down for you into three categories: Where to Eat, Where to
Shop and where to Stay. Save this blog link and share it so everyone can make the most of their time in Waco ❤️
Eat!
*Those that are highlighted in Pink are the ones I personally ate
135 Prime 120 Hewitt Dr Suite 110 Waco Texas
Upscale, fun and moody Steakhouse, seafood and farm-to table produce was our first nights dinner. The dirty martini, the scallops the creme brûlée were amazing! Definitely recommend this place- it would also make a perfect date night restaurant!
Ummmm the buttercream frosting on the cupcakes-YUM! Cupcakes, cookies and cinnamon rolls-don't miss this for a sweet treat!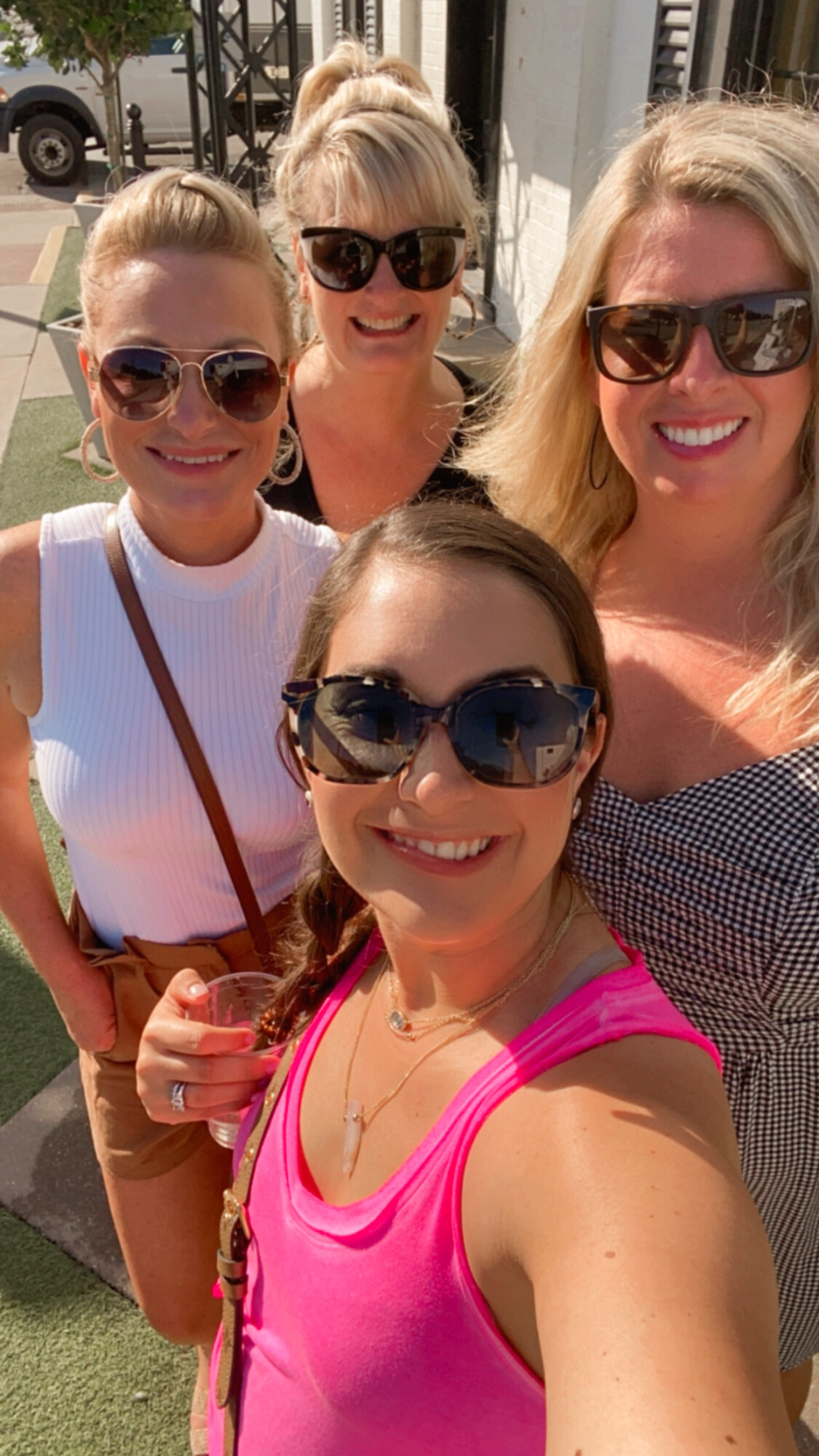 Pic is of us first in line at Silos Bakery for some cupcakes which we brought home for our men to enjoy!
SHOP!
*Those that are highlighted in Pink are the ones I personally shopped
Magnolia Market
601 Webster Ave
The big shopping experience! Home goods, jewelry, hand bags and Waco souvenirs. This is the whole shebang all created by Chip and Joanna Gaines! After leaving the market you will come out in the beautiful landscaped grounds and food trucks featuring more cottage shopping. This is a truly unique and incredible shopping experience!
Summer Ellis Bijouterie 601. Franklin Ave
Fine Jewelry with ad etlicate modern twist. We went into this shop-very cute but didn't buy anything however, if you're looking for unique jewelry-this is the place!
Pretty in Pink Flamingo Boutique
611 Washington
We eyed this shop when it was closed and couldn't wait to go back. Pink is my favorite color! Cute, trendy shop which was fun to explore although ultimately I didn't find anything I absolutely needed to have but still would recommend you check it out :)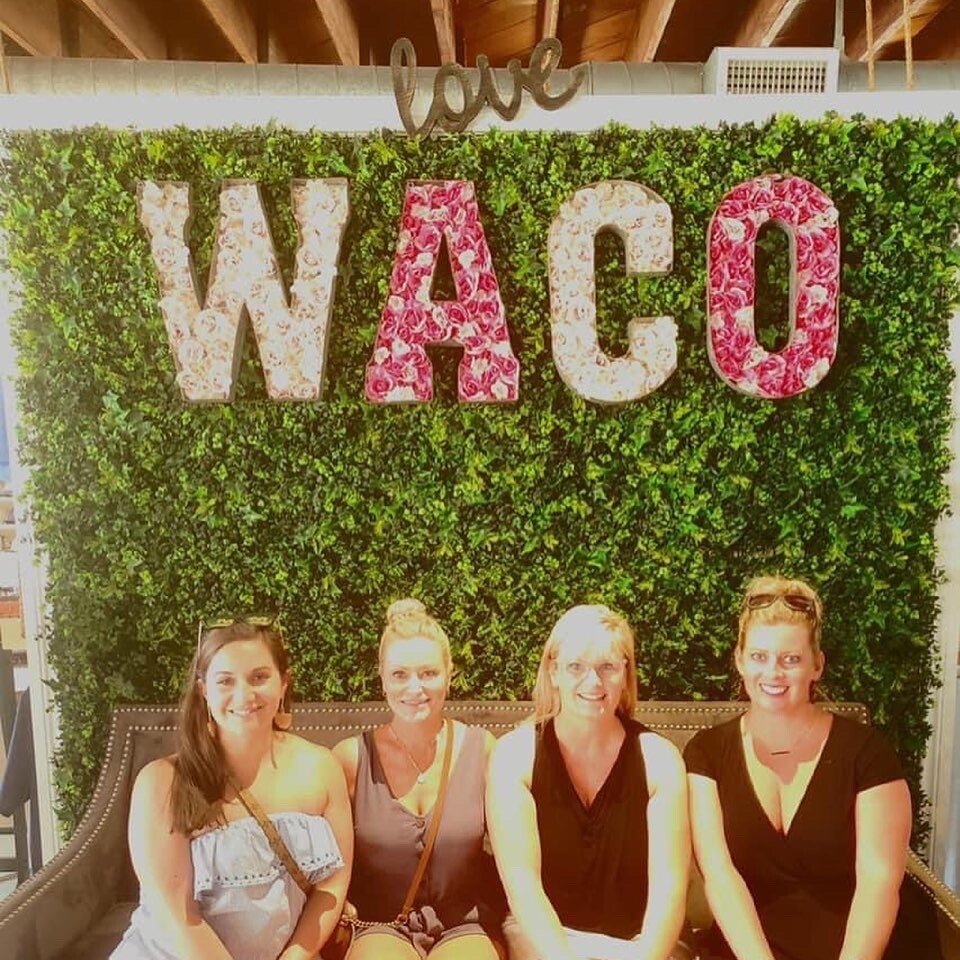 Brazos River Supply Co 210 A S 5th St
Don't forget about the men in your life :) This shop features some fun and unique mens gifts along with this adorable Waco sign we took our picture in front of.
The Findery 501 S 8th St (close to silos) 2 locations
There are 2 locations of The Findery so be sure to hit them both. My friends and I scored big time at the initial Findery location (it was also our first shop to hit as we came into Waco so of course we came in hot! We bought earrings, dresses, shirts, necklaces and a jacket! But there were many more things to catch our eye. The downstairs is full of houseware and decor items!
The second location was so fun and we were so glad to have found it on our way out of town heading to the airport. I got napkins, a salad bowl set with salad tongs, Cake stand, and a cutting board set!
Paper Crown
601 Franklin Ave
Stationary, Craft Foods and Scrapbooking. My friend scored some adorable lunchbox notes to share with her boys.
Fox and Gray
-300 S. 6th (near silos)
Adorable shop where for the fashionista! I scored this adorable orange 2 piece jumper set with a crop top and high waisted shorts which will be perfect for summer along with a hat to keep the sun off my face in the summer sun :)
Little shop on bosque
(Gaines original location)-3801 Bosque Blvd, Waco (10-5)
This is also called the "Scratch and Dent" shop where you can pick up some items that aren't so perfect from Magnolia Market up to 75% off! When we visited I stocked up on some gold napkin rings while my friends got some greenery, cookbook and cutting board.
We shopped and shopped and shopped here. We loved this place! Lots of small boutiques inside this one location which makes it easy for different styles to shop all in the same place! Staff is super friendly and they have a cute little coffee/dessert and sandwich shop inside too! And bonus if you're an antique lover, an antique section upstairs. We bought lots of goodies here!
Interior Glo
- Very Cool Home Decor. Lightening and Furniture shop. You could definitely peruse in this place for hours! We were probably in here looking for an hour! We didn't buy anything but so fun to look!
Roots Boutique- Really fun modern clothing, jewelry and shoes shop! We didn't make it into this one but looks adorable online!
Mainstream boutique
- 600 Franklin
The jewelry in this place is….well LOVE! I snagged some earrings while my friends also got some jewelry along with some cute boutique clothing which is some of my fav because you can't find it anywhere else :)
Spice village
(temp location 924 Austin Ave.)
This location was temporarily moved to the address listed above due to water damage from a bad winter storm Texas was hit with in the Spring of 2021. Spice village includes a lot (read EVEN more than you think) of shops. It's very cool because all sorts of stores have their own little section and can display their own merchandise. I don't do well in these types of places as I find it overwhelming to shop so I didn't snag anything but my friends found a few things from greenery to clothes!
Apricot lane
-2444 W Loop 340 in strip mall)-
We swung in this place almost at the end of our 12 hour day of shopping and didn't buy anything but it was very cute and trendy clothing!
Really cute boutique filled with fashion forward clothes! I didn't pick up anything here but the staff was friendly and my friends found a few cute tops they bought and loved!
Lanes
-1601 Austin Ave gift shop in old house
Beautiful shop full of china, intricate cups, napkins, table pieces and pretty much any entertainers dream! If you're in the area be sure to check out Lanes to register for dishes and China, the staff is friendly and the building is historic charm sure to leave you feeling at home.
Iron Willow- 300 S 6th St, (metal art/word signage)
Next door to Fox and Grey- we didn't make it inside but it looks adorable from outside and has a cute opportunity for a photo opportunity right out front!
Honey interior design
-1700 Austin Ave
I scored this incredible Beachwood table which I can't wait to write about once it arrives and give you all further details! I'm going to feature this in my stairway which has needed a table or design element since we moved in. The staff is super friendly and the furniture and decor featured in Honey Interior Design is certainly one of a kind!
Stay!!
*Highlighted in Pink is the home I stayed
The Story House:
The cutest brand new house 300 steps to Magnolia Market is the perfect place to stay for a trip to Waco.
The incredible details with lots of natural light and modern furnishings are sure to make you feel warm and welcome. The incredible beauty and attention to detail in these effortless amenities will exceed your needs during your stay in Waco.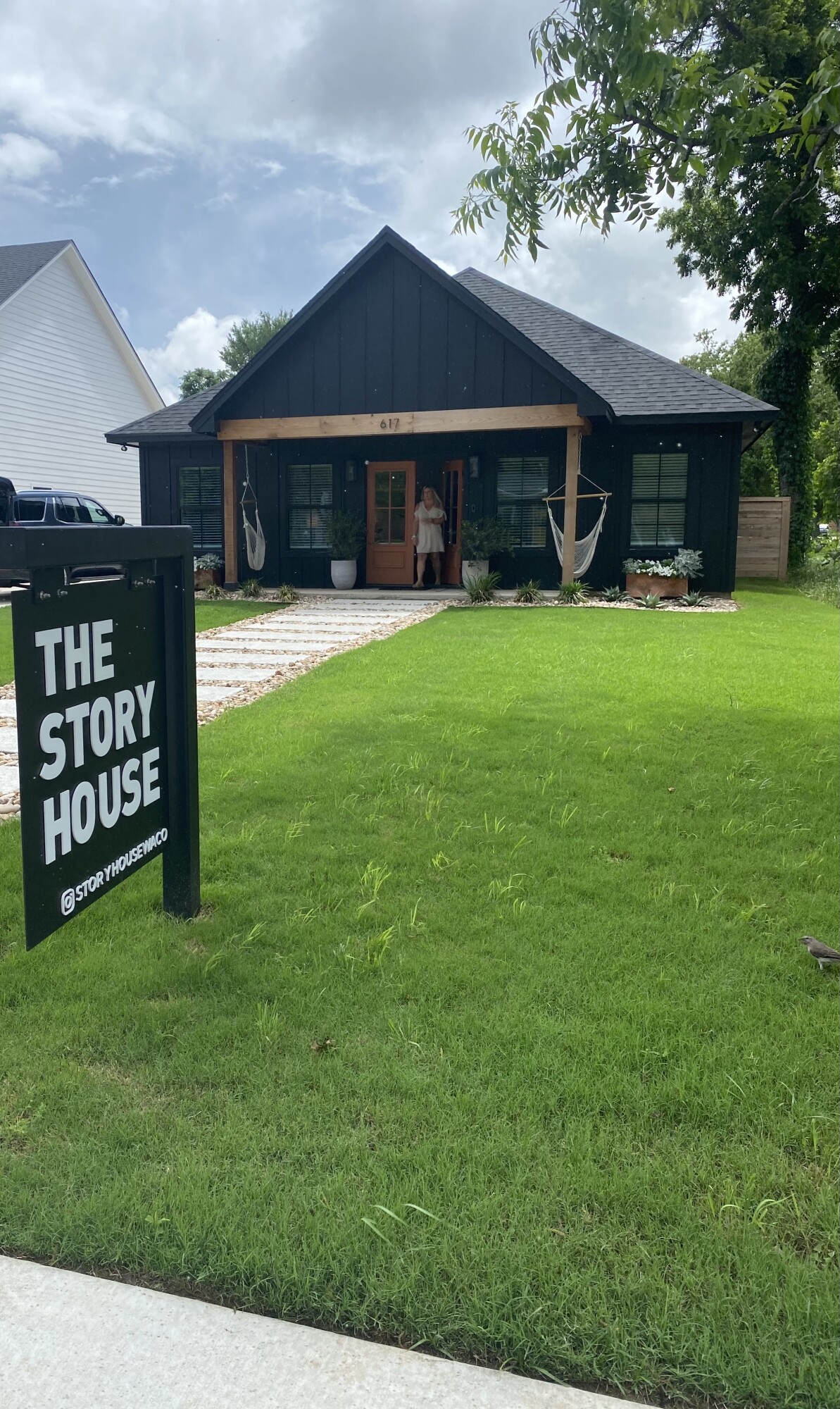 The
@StoryHouseWaco
is the perfect spot to enjoy Magnolia Market, Magnolia Silos, Baylor and all the other incredible goodness Waco has to offer.
Two bicycles are also included to help you roam around Waco taking in the sights with a bike ride!
Brand new, just completed (right next door to where I stayed The Story House) is this beautiful, dreamy Sterling House. The sweet Owner allowed us to view this home for what will hopefully be a near future visit :)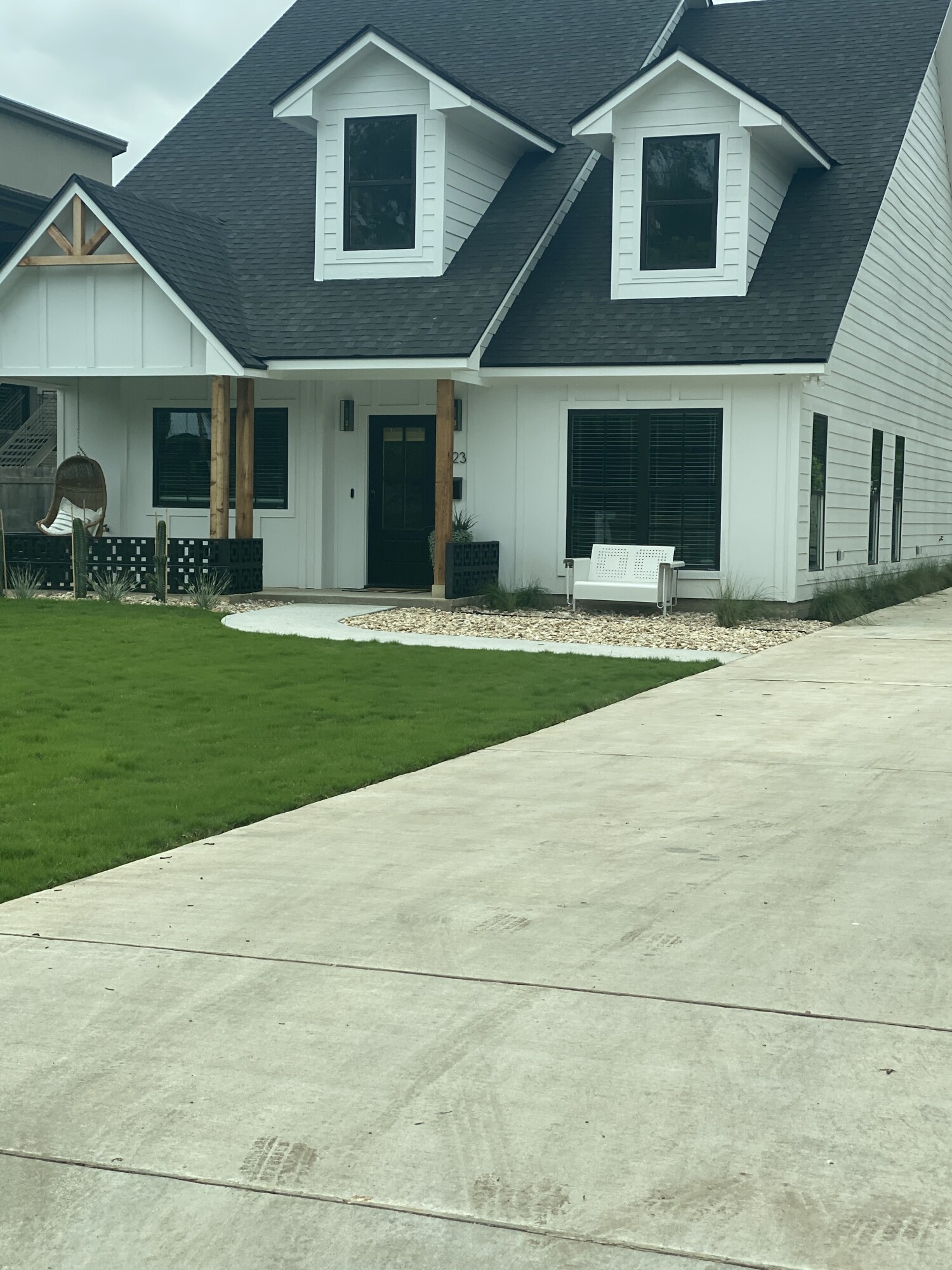 Again this house is just 300 short steps from Magnolia Market making it a dream location for Magnolia Silos, Baylor and everything Downtown Waco has to offer (read SHOPPING :)).
This house is thoughtfully inspired with zen beach girly vibes which will bring you right into a perfect setting for a girls shopping trip if that's what drew you to Waco.
Detailed and exceptional design will have you dreaming about all the incredible design elements you could implement into your own home when you get back from your stay.
Two bicycles are also included to help you roam around Waco taking in the sights with a bike ride!
That's a wrap on an epic SURPRISE girls trip for 2021 you can be sure I'll be sharing all the details on my next big trip so be sure to click subscribe to the blog for all the updates coming your way!